Jimmy's Saloon
Price: $12.00
Date: Sat, Jul 25, 2015
Time: 8:00 pm - 12:00 am
Venue: Jimmy's Saloon
Location: 37 Memorial Blvd 02840 Newport, RI, US
OldJack's 3rd Annual Newport Nights
OldJack's 3rd Annual Newport Nights, July 25th at 7:30pm featuring Tigerman WOAH, OldJack, The Curtis Mayflower, Bow Thayer, and Josh Buckley.
Inspired by OldJack's first invitation to the Tweed River Music Festival, this year's lineup showcases the best New England area talent playing Tweed, and of course our friends Tigerman Woah.  After last year's SOLD OUT event, OldJack's Newport Nights returns for a festival post party like no other!
21+ Proper ID required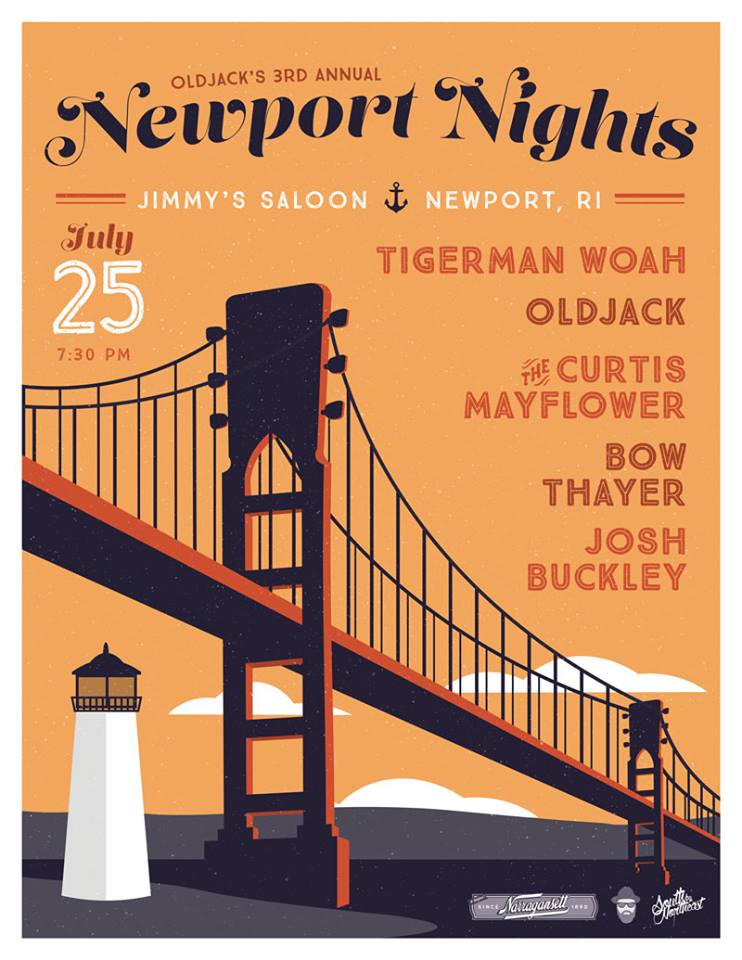 Tigerman Woah
Self-described as "growlin' grind folk with TOO MUCH HEART," Tigerman WOAH! Is a four-member band who's been on the scene since 2011. Though they have roots in Atlanta,Ga. the group is based in Lynn, Mass. where they record at Kobi Studios. Tigerman WOAH! released their first album "Up South Vol. I"in June of 2012 and the second volume in 2013. As for their live-performance style, last year's American Festival told audiences to "expect group singing, bare feet and live wire electricity." – The Huntington News
OldJack
Since their first show way back in 2008, critics and fans knew there was something unique about OldJack. Hailed as the most underrated band in Boston, with three guitars, bass, drums, organ/keys, a female background singer, and a front man from yesterday, OldJack belts out their original material with lots of harmonies, big vocals, and guitar solos galore.
The Curtis Mayflower
The Curtis Mayflower is Pete Aleksi, Duncan Arsenault, Jeremy Moses Curtis, Brooks Milgate and Craig Rawding. Five musicians creating a sound that is greater than the sum of its parts. Players who have toured, recorded with acts such as Booker T. Jones, Levon Helm, Howie Day, Heavy Metal Horns, Jim Carroll, Orchestra Morphine, Twinemen just to name a few.
Bow Thayer
Bow Thayer has been singing and writing songs for as long as he can remember. Making music is who he is. He has lived up to his "reputation as a sublimely gifted artist" by pursuing a creative vision that seeks to lead Americana music into the future. Finally gaining national recognition, American Songwriter Magazine says this "onetime Levon Helm compatriot is the best artist to come from New England in recent years."
Josh Buckley
First premeiring his talents in Austin in (2011?) fronting the critically acclaimed alt-country band Gilded Splinters, Buckley took the local music scene by storm. Playing a multitude of venues, events, and showcases, Buckley has built a solid and dedicated local fan base in a span of only a few short years.
General Admission 21+ Only