Campfire Festival
Price: VARIES
Date: Sat, Aug 30, 2014 - Sun, Aug 31, 2014
Time: 12:00 pm - 5:00 pm
Venue: Campfire Festival
Location: Lakewood PA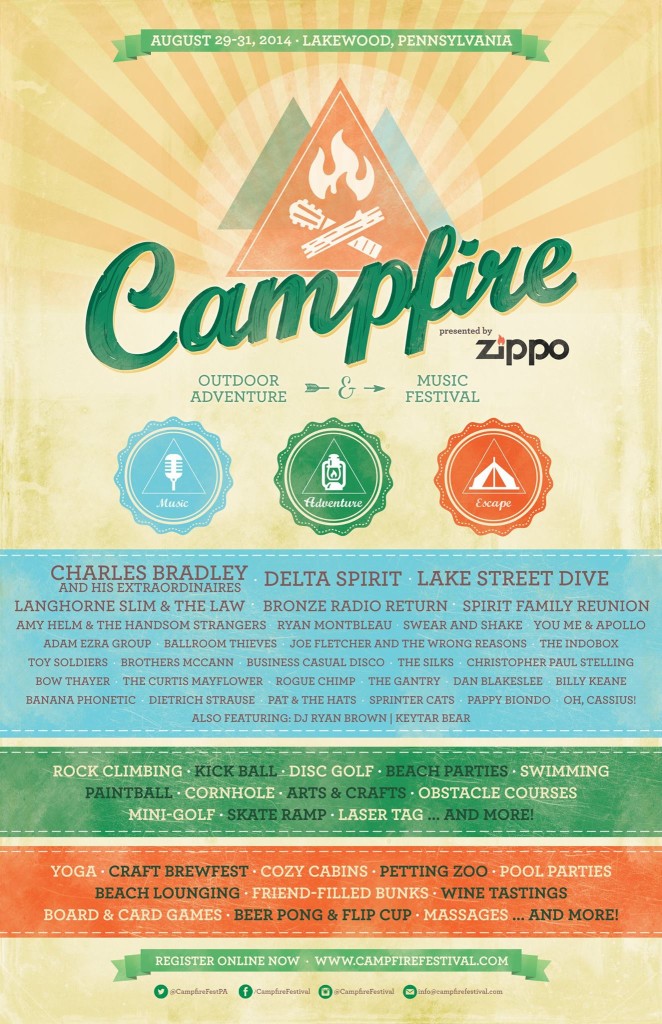 Enter code mayflower at checkout and receive $5 Off!
LINEUP
Charles Bradley & His Extraordinaires
Delta Spirit
Lake Street Dive
Langhorne Slim & The Law
Bronze Radio Return
Spirit Family Reunion
Amy Helm & The Handsome Strangers
Ryan Montbleau
Swear and Shake
You Me & Apollo
Adam Ezra Group
Ballroom Thieves
Joe Fletcher and the Wrong Reasons
The Indobox
Toy Soldiers
Brothers McCann
Business Casual Disco
The Silks
Christopher Paul Stelling
Bow Thayer
The Curtis Mayflower
Rogue Chimp
The Gantry
Dan Blakeslee
The Lawsuits
Billy Keane
Banana Phonetic
Dietrich Strause
Pat & the Hats
Sprinter Cat
Pappy Biondo
Oh, Cassius!
DJ Ryan Brown
Keytar Bear
Online Resources:
www.CampfireFestival.com
To purchase tickets: http://bit.ly/1hsovC7
Campfire Official Promo Video: http://bit.ly/1wX1hbs
Facebook: https://www.facebook.com/CampfireFestival
Twitter: @CampfireFestPA
Instagram: @CampfireFestival
MUSIC
A celebration of rock 'n' roll, folk, and the independent spirit…
Enjoy your favorite bands and artists performing on stage and in intimate settings such as campfire sing-a-longs, poolside performances, and secret late-night sets.
ADVENTURE
Athletic competition, personal challenge, and hysterical laughter…
Choose your own adventure on our adult-sized playground, which includes rock climbing, ropes courses, lake and beach activities, team sports and individual challenges.
ESCAPE
Come back to camp, in style and comfort…
Experience the splendor of the outdoors in accommodations ranging from rustic to luxurious, while taking part in relaxing activities like yoga, arts & crafts, and soothing massages.
Conveniently located between the Tri-state area and New England, camp is a short drive from Scranton/Wilkes-Barre area and easily reachable from New York City, Philadelphia, and Boston.
Campfire Outdoor Adventure & Music Festival is an ideal setting for any music lover, thrill-seeker, or relaxed spirit that strives to get the most out of life experiences.