Media Kit
Contact
info@thecurtismayflower.com is the best way to reach the band for all inquires but you can find them at www.facebook.com/thecurtismayflower, www.instagram.com/thecurtismayflower and www.twitter.com/curtismayflower.
Photos
Here are photos available in hi-resolution, please use photo credit. If there are any photos in the gallery you wish to you please also use proper photo credit, thanks!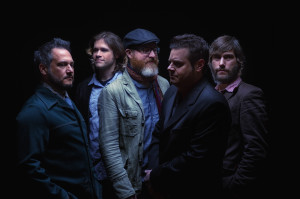 Band Publicity Photo (L-R: Jeremy Moses Curtis, Brooks Milgate, Duncan Arsenault, Craig Rawding, Pete Aleksi) Photo by Michael Spencer (download hi-res JPG .zip)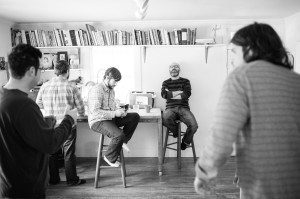 Taken in Lamoine Maine during the recording of "Everything Beautiful Is Under Attack". Photo by Steven King (download hi res JPG .zip)
Logo
Music
To receive a copy of any of the bands music please contact info@thecurtismayflower.com and we will send you a download code right away!
embeddable music available at www.thecurtismayflower.bandcamp.com | soundcloud.com/thecurtismayflower |Spotify
Video
The Making of Everything Beautiful Is Under Attack
"King of the Fools" official music video
"Fourth Wall" official music video
"Paraselene" official music video
Live performance of "Everything Beautiful is Under Attack" at The Citizen, Worcester MA featuring Dana Colley on sax
Bio
The Curtis Mayflower is Pete Aleksi, Duncan Arsenault, Jeremy Moses Curtis, Brooks Milgate and Craig Rawding. Five musicians creating a sound that is greater than the sum of its parts. Formed in 2013, they have quickly amassed a large body of work and a larger audience for it. Their debut album was preceded by their self released EP "Live At The Dive" and showcased the band's ability to write powerful music on the spot. The critically acclaimed debut "Everything Beautiful Is Under Attack" was released in January of 2014 and was followed up with the new singles "King of the Fools" and "Fourth Wall"  later that year. The band is currently touring and releasing new music.
Press
You can find all the latest reviews and press on the band at thecurtismayflower.com/news
Local quintet The Curtis Mayflower, which consists of session players who have worked and toured with the likes of Levon Helm, Booker T Jones, and Jim Carroll, is only about a year old, but has already released a live EP, and more recently, a debut full-length, "Everything Beautiful is Under Attack." It is an undeniable display of talent, but also a surprisingly cohesive work – especially for a debut album.
-Perry Eaton BDCWIRE.com
The first studio release from The Curtis Mayflower titled Everything Beautiful Is Under Attack is a combination of talent, great songwriting, and beautiful haunting melodies. Done mostly in one take the album is a compilation of lush sounds and hard driving bluesy rock that defies putting this band into a genre.
-Scott Wilkinson ScenePointBlank.com
The Curtis Mayflower play rock 'n' roll of the best, broadest kind – Duane-era Allman Brothers and Delaney & Bonnie and the Butterfield Blues Band in their prime spring to mind – delivered with a confidence, manly aura and sure-footed skill that's downright seductive, a sound with a wide appeal to electric blues nuts, jam band kids, Muscle Shoals enthusiasts, and perhaps Black Keys fans looking for something deeper and more subtle.
-Dennis Cook DirtyImpound.com
Sonicbids
Sonicbids EPK www.sonicbids.com/band/thecurtismayflower/
Upcoming Tour Dates
No upcoming concerts or festivals.